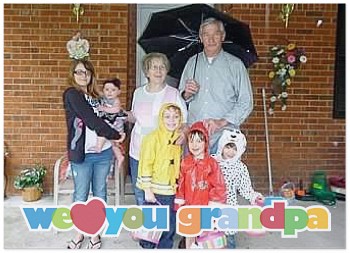 Superman actually enjoys last minute shopping. He gets a thrill out of going to the store and having to find "the perfect gift" in five minutes flat. Unfortunately, more often than not it is the
leftover gift
...the gifts that no one else wanted. Which is why I like to plan ahead. If my gift is a fail, it is rarely for lack of trying.
Which is why Mother's Day has just passed, and I'm already thinking of the next holiday...Father's Day. On Mother's Day, I got my mom a "4 Reasons I Love Being a Grandma" shirt from
PersonalizationMall.com
, and for just $3 extra I was able to add a personalized card which I thought was a really cute and unique touch.
So, for Father's Day, I decided to head on over to another of my favorite websites,
Shutterfly.com
to order up a few personalized cards for Superman and the grandpas. Right now, you get 20% off of all cards, plus free shipping on orders over $30.
I was able to fill up the cart with a bunch of things I needed printed and a few other upcoming gift necessities to get my free shipping. (I have an unnatural need to never pay for shipping!)
The trick is you have to order these far enough ahead of time that you can wait the 7-10 days delivery time for the free shipping items.
Check out the card I made for Grandpa Train. It maybe the only picture of him and Grandma Train with all of their grandkids. I think he is going to LOVE it!
And, if you make a project and
share it in your blog (like I have here),
you'll get a code for $10 off your next purchase.